Our Services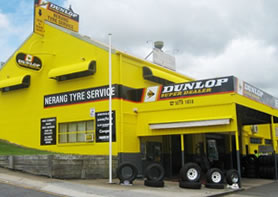 TYRE FITTING & BALANCING
We fit and balance all tyres. Why balance? When the tire rotates, asymmetries of mass may cause the wheel to hop or wobble, which can cause ride disturbances, usually vertical and lateral vibrations. It can also result in a wobbling of the steering wheel or of the entire vehicle. The ride disturbance, due to unbalance, usually increases with speed. When tires are fitted to wheels at the point of sale, they are measured, and correction weights are applied to counteract the combined effect of the tire and wheel unbalance.

WHEEL ALIGNMENT
Wheel alignment sometimes referred to as tracking, is part of standard car maintenance that consists of adjusting the angles of the wheels so that they are set to the car maker's specification. The purpose of these adjustments is to reduce tyre wear, and to ensure that vehicle travel is straight and true (without "pulling" to one side).

BRAKE PADS
We supply and fit brake pads for all vehicle makes and models.

SUSPENSION FITTING
We fit suspension for all vehicle makes and models. Suspension systems serve a dual purpose - contributing to the car's roadholding/handling and braking for good active safety and driving pleasure, and keeping vehicle occupants comfortable and reasonably well isolated from road noise, bumps, and vibrations,etc. It is important for the suspension to keep the road wheel in contact with the road surface as much as possible, because all the forces acting on the vehicle do so through the contact patches of the tires. The suspension also protects the vehicle itself and any cargo or luggage from damage and wear.

ON-SITE TRUCK TYRE FITTING
We offer an on-site tyre fiiting service to help get you out of trouble.

Call 07 5578 1038 to book a tyre fitting.
Book A Service